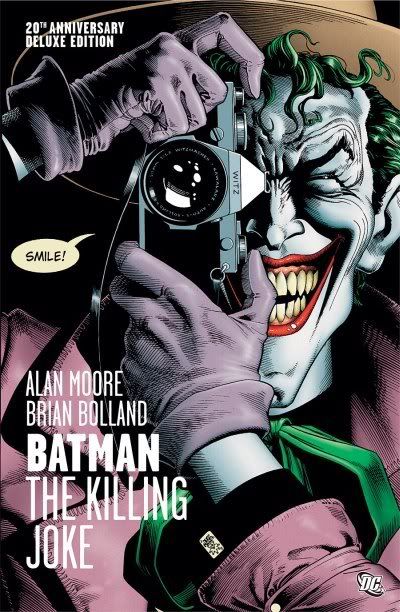 Heath Ledger's untimely death has people talking about the various symbols that are always put into play from events like this. Adam is digging into the the portents that no one paid attention to in his new piece,
"This Joke is Not Funny."
A large part of the success of the Batman franchise is drawn from Alan Moore's seminal graphic novel
Batman: The Killing Joke.
My personal take on
B:TKJ
was that it was Moore's admirable but not-entirely successful attempt to translate the very powerful musical and iconographic energies of the British band, Killing Joke.
As I've written in the past, Moore's interest in the occult world was probably heavily inspired by the band, who were talking these themes up many years before Moore himself. Killing Joke also wielded an incredibly potent iconographic punch through the work of house designer Mike Cole.
Killing Joke's iconography was ubiquitous in early 80s England. You can see old episodes of shows like
The East Enders
where characters are chatting in front of their concert posters. No one who saw their most powerful icons flushed them entirely from their subconscious.
The band understood the power of symbols and wielded them with tremendous force, perhaps like no other band before or since. Images like that above confront you and create an indelible impression. Sensitives like Moore were particularly susceptible to this graphic spell.
And of course, the malicious Harlequin was their mascot.
Again, an object lesson in how incredibly potent energies bubble up from the source into the mainstream: Killing Joke unleash a host of very powerful energies into the world which Alan Moore attempts to translate into his own art. The emanations reverberate from the underground to mainstream comics, up into big-budget Hollywood films and then to the tabloids through a terrible tragedy like the untimely death of a brilliant young actor.
Whose sudden death follows three months after that of
Killing Joke bassist Paul Raven...
My personal thinking? I'm always extremely careful what kinds of symbols I put in motion, especially those I identify myself with.