As some of you may know, my favorite cartoonist these days is "Bashful"
Bruce Timm,
who designed all of the characters for the
Batman, Superman
and
Justice League
cartoons. It breaks my heart he's so busy doing animation (he produces DC's direct-to-video line), because we're seeing less and less of his own art circulating these days. One thing Mr. Timm has down is
sexy
. The man is the absolute master of the sexy superheroine pin-up.
Frank
"Mucho Macho"
Miller's a busy guy lately, too. After packing 'em in with his he-man hits,
Sin City
and
300
, now he's doing
The Spirit
, which hits the big screen on Christmas Day.
So since Mr. Miller and Mr. Timm are both famous for bringing comic book aesthetics to the mainstream- and both are famous for rendering the female form- why don't we take a poll and see who's
really
bringing the sexy back to the funnybook pages?
Speaking of
Sin City,
here's a trio of fatal femmes from the cover of
A Dame To Kill For
#5. I couldn't find Timm doing the same characters, so here's his take on TV stars,
The Birds of Prey
; the Huntress, the Black Canary and Oracle.
¿Quién es más Sexy?
(Click images to enlarge).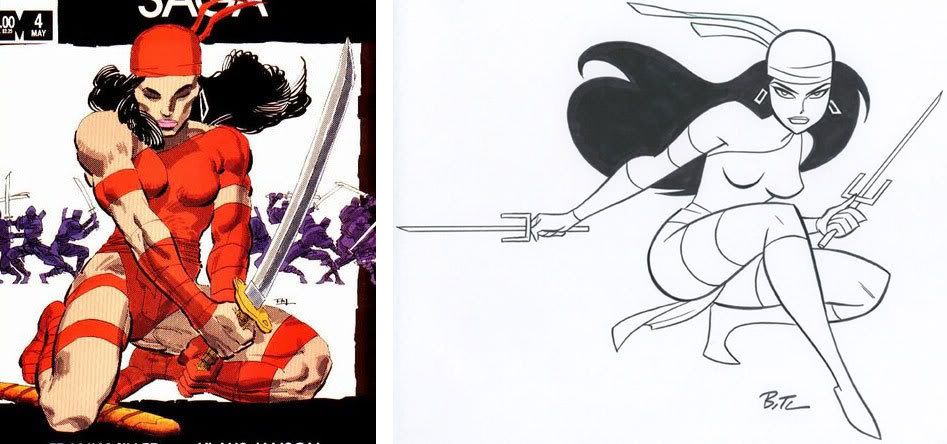 Back off, here comes Elektra! Timm also tackles the naughty ninja, who Miller created in 1979.
Speaking of Black Canary, here's Miller's sketch for
Dark Knight 2
vs. Timm's classic Canary. That little bird looks ready to hit the sack. Wanna tuck her in?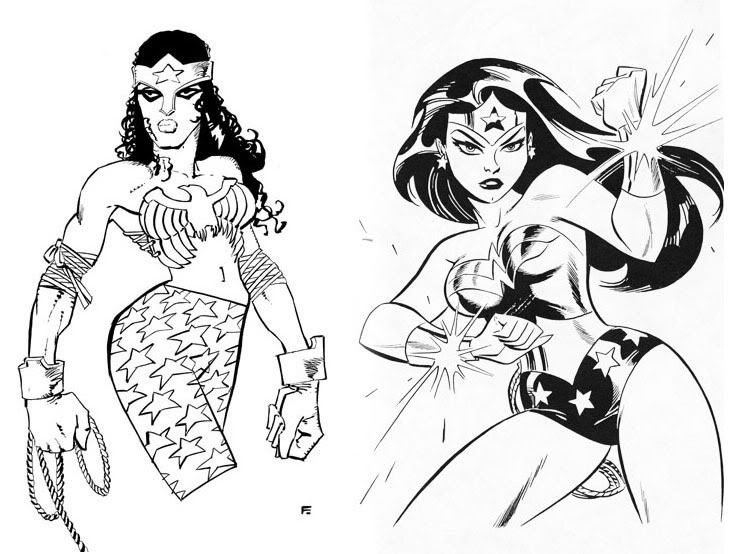 A real "Prince" of a gal-
Diana Prince,
that is! Another
DK2
sketch vs Timm's Carterian version.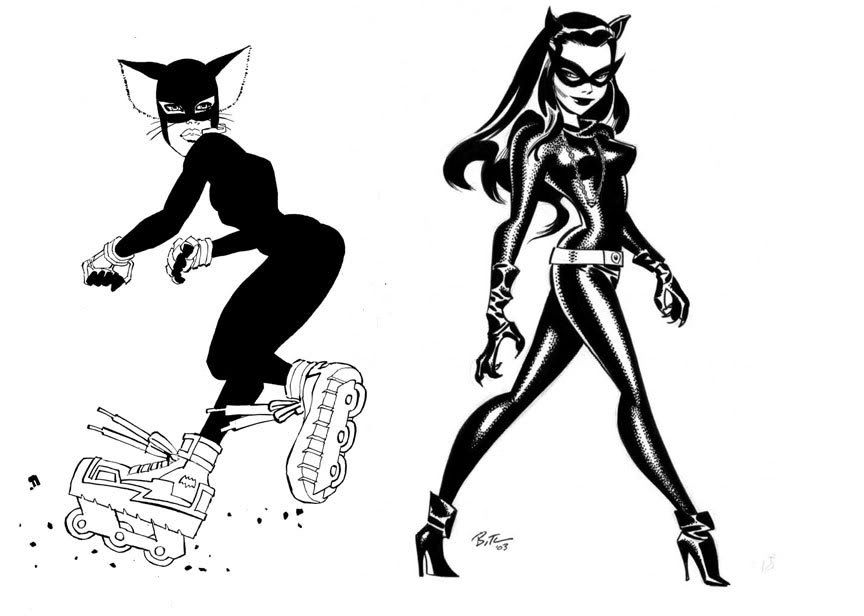 Catwoman- Rockin' the Julie Newmar on this one. And how about those feet? Call me a weirdo, but I think tiny feet are
hot.
¿Cuál Super-Chica es más Sexy?
Last, but not least: Is that a pistol in her holster or is she just happy to see us? I bet she gets lots of mail from lovesick cowpokes! And there's BT's
Sin City
tribute, with his take on the Jessica Alba character. So, what are you waiting for? Log in and cast your vote!
I always feel like I should be doing more comics-related stuff 'round these parts. Too often, I've left that aspect of the Secret Sun kind of dangling; I guess I got hung up on a bunch of other junk. But have no fear, there are more comics-oriented posts in the pipeline.
Next up for our contestants: Bruce Timm is producing the new
Wonder Woman
DVD and Fearless Frank is sticking it to Osama in
Holy Terror, Batman!